The Tulsa Greek Festival features an assortment of traditional Greek favorites and new offerings for any appetite!
Introducing a whole new tent:
Visit The Temple of Fire for a fiery & exciting appetizer!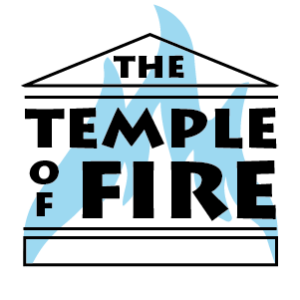 Saganaki
– THIS CHEESE IS ON FIRE!!!!!! Lightly fried then flambed with brandy! (The Greeks invented drama, you know.)
Opa!Coladas & Kefi Lemonade
– If you like Piña Coladas & frozen lemonade… then you'll love them with Ouzo! You're sure to find your Kefi with one of these refreshing options! Must be 21 years old or older to enjoy.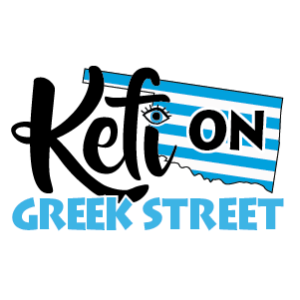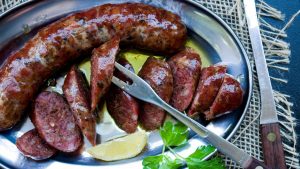 Loukaniko
– Go for our savory sausage made from our own special blend of pork and spices and served with sautéed peppers and onions on a toasted pita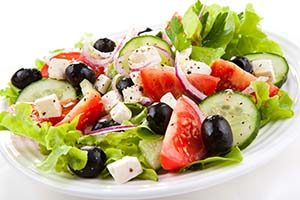 Greek Salad
– This satisfying salad features: Romaine lettuce, cucumbers, Roma tomatoes, feta cheese, olives, red onions, bell peppers & House-made Greek Vinaigrette
Keftedes
-Meatballs that have been fried to perfection. These delightful Greek bites will have you coming back for more!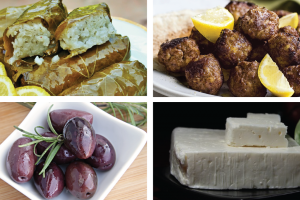 The Athenian Special
– A treat for those who just want a bite, enjoy a sampler of feta, olives, dolmades (stuffed grape leaves), and keftedes.
BEVERAGES
Served in every tent!
Beer, Wine, and Spirits
– Delicious selections imported from Greece. Don't forget to toast to the weekend with an ice cold shot of Ouzo, Greece's anise-flavored liqueur! YAMAS! (It means "to our health") Must be 21 years old or older to enjoy.
Soft Drinks & Water
GREEK STREET EATS
Classic Gyro
"Classic" – Beef and Lamb gyro meat grilled and served layered in a pita
with veggies and tzatziki sauce.
Calamari
– Breaded and fried squid served
with fresh lemon and cocktail sauce
Greek Fries
– A Greek twist on an American favorite.
Crispy fries tossed in Greek seasonings topped with feta cheese and served with tzatziki. EVERYTHING'S BETTA WITH FETA!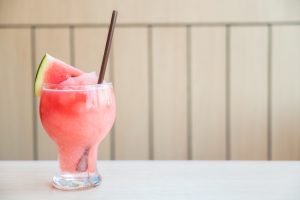 Kid's Slushies
– Refreshing and fun fruit-flavored slushies that everyone can enjoy! Only found in Greek Street Eats.
OPA!HOMA ENTREES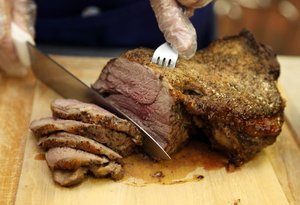 Lamb Dinner
– Roasted Lamb with garlic & herbs, tzatziki sauce, rice & Greek style green beans
Chicken or Pork Souvlaki Dinner
– Also known as, Shish Kabob, 1 spear of tender grilled chicken or pork on a half pita with rice, green beans, 1 spanakopita & 1 tyropita
Chicken or Pork on pita
– 1 spear of tender grilled chicken or pork served on a half pita with rice
Green Beans
– Stewed in a savory tomato sauce
Rice Pilaf
– Goes great with pretty much everything
Spanikopita and Tyropita
– savory and flaky pastries of filo dough
filled with spinach or cheeses
Tzatziki Sauce
– Refreshing yogurt sauce with cucumber, garlic & dill
Pita Bread
– Lightly toasted flatbread
Desserts
In the Bakery you can enjoy pastries baked
and prepared right here in Tulsa by our community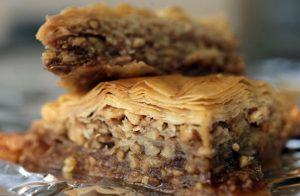 Baklava
– Layers of crispy filo dough and spiced
nutty filling soaked in a sweet syrup
Baklava Sundae
– Your favorite dessert crumbled atop a scoop
of refreshing vanilla ice cream and drizzled with syrup
Galaktoboureko
– A creamy custard filling inside layers
of filo dough with an orange syrup
Kouroumbiedes
– A buttery Greek wedding cookie dusted
with a layer of powdered sugar
Koulourakia
– a twisted biscuit cookie that is the perfect
companion to a hot cup of coffee
Melomakarona
– a nutty, crumbly holiday cookie
Loukoumades
– AKA "Honey Puffs", Doughy balls of goodness
fried and soaked in honey then dusted with cinnamon
Kafenion
Greek Coffee
– a very strong, sweet coffee brewed
in a Briki, a small coffee pot
Frappe
– Greece's version of an ice coffee,
creamy and shaken, not stirred