A Big Fat Greek Vlog Series
It's official…
The Tulsa Greek Festival is returning this September 22-24!
To celebrate the 60th year of our festival, we're launching a 10-part vlog series that will take you on a behind the scenes tour of Tulsa's longest running ethnic festival.
Watch our series premiere now, as we toast to 2022! A wine & spirits specialist joins us for an Ouzo tasting, shares cocktail recipes, and we play a fun game of "Trouzo"
Check out the full cocktail recipe details below.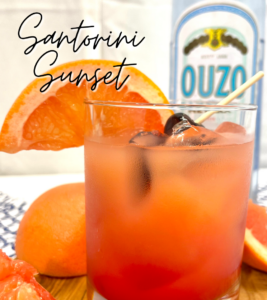 Ingredients:
1 oz ouzo

2 oz grapefruit juice

1 tsp grenadine

maraschino cherry & grapefruit slice, for garnish
Directions:
Add ouzo, grapefruit juice, to a cocktail shaker with ice and shake well to mix. Pour into a tumbler glass with fresh ice. Add the grenadine. It will float to the bottom creating a blended sunset effect. Garnish with a maraschino cherry (or more!) and a slice of grapefruit. Enjoy!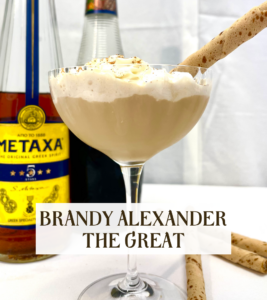 Brandy "Alexander the Great"
Ingredients:
1.5 oz Metaxa Greek brandy

1 oz dark creme de cacao

1 oz cream

grated nutmeg

chocolate rolled wafer and whipped cream (optional), garnish
Directions:
Add Metaxa, creme de cacao, and cream to a cocktail shaker filled with ice and shake well to mix. Strain into a coup or other decorative glass. If desired, top with whipped cream. Sprinkle with grated nutmeg and garnish with a chocolate rolled wafer.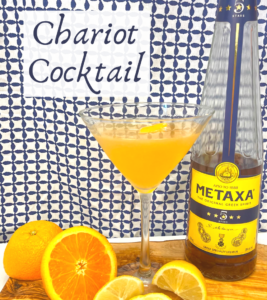 Ingredients:
1.5 oz Metaxa

.75 oz orange liqueur

juice of 1 lemon, fresh squeezed

orange twist & 

sugar rim (optional), garnish
Directions:
Rim martini glass with sugar. Shake together Metaxa, orange liqueur, and lemon juice with ice to mix. Pour into cup and twist the orange peel over the glass, expressing the essential oils. Garnish with the twist and enjoy!