Q: When is the Tulsa Greek Festival?
A: Never forget, always remember, it's the 3rd week of every September!
Update for 2021: In light of rising health concerns in Oklahoma, we are combining our popular drive-thru model with the exciting entertainment of our traditional festival. Open for two weekends, September 17-18 & 24-25! Our priority is to maintain the health and safety of our community volunteers and our valued guests. Although we had initially planned to host a full, in-person festival in September to celebrate our 60th anniversary, we now welcome you all to experience Authentic Greek food PLUS entertainment of the Tulsa Greek Festival from the safety and comfort of your own vehicle! ​
---
Q: How much is admission?
A: During our full festival, admission is $5/per adult. However, there is no admission for our Drive-Thru event!
---
Q: Where is the Greek Street Drive-Thru located?
A: Our address is 1222 S. Guthrie Ave. Tulsa, OK 74119. We're located between 12th and 13th on Guthrie. (We call it "Greek Street") Our location is easily accessible from the Broken Arrow Expressway. Take either the Denver or Houston exits. Enter the drive-thru from the parking lot entrance closest to 12th and Guthrie.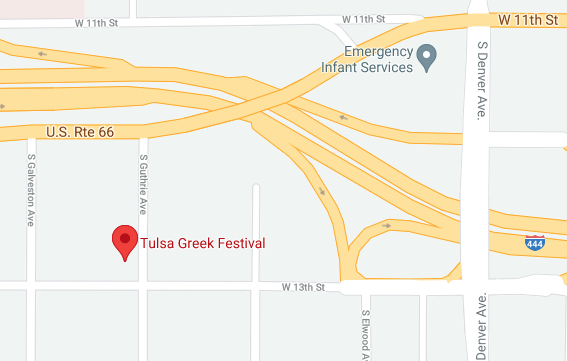 ---
Q: What days and times are you open?
A: This year's hours of operation can be found on our Events page.
---
Q: Is this a cash-only event or do you accept credit cards?
A: We accept cash AND cards! 
---
Q: How do I order online?
A: Visit our Store to browse our menu items and make purchase. Please see our Checkout Guide if you need assistance. 
---
Q: Is this an indoor or outdoor event?
A: Our drive-thru events are outdoors only. 
---
Q: Do you have vegetarian/vegan options?
A: The Greek Fries and Green Beans are vegan (without Feta Cheese). The Saganaki and all of our desserts are vegetarian! 
---
Q: Do you serve hummus, falafel, or tabouli?
A: Actually, those foods are Mediterranean/Middle Eastern. They are delicious! But they are not a part of Greek cuisine. While some Greek foods and seasonings are similar to those in other Mediterranean cultures, Greece has it's own unique flavor and that's what you'll find at the Greek Street Drive-Thru! Check out our Menu to learn more.
---
Don't see your question here?